Eva (Oona Chaplin) and Kat (Natalia Tena) have a carefree and simple life in their London canal boat until Eva, inspired by her exceptional mother Germaine (played by her real mother Geraldine Chaplin), presents Kat with an ultimatum: she wants a child. Kat resists, knowing that it will end their bohemian lifestyle. When Kat's best friend, Roger (David Verdaguer), drops in from Barcelona, the three of them toy around with the idea of creating a baby together. Kat sees no other way out but to say yes. As the three begin to look forward as one family, their differing expectations of intimacy and responsibility put a heavy strain on their relationship and threatens to rip the three apart.

Writers: Jules Nurrish and Carlos Marques Marcet
Director: Carlos Marques Marcet | UK/Spain, 2017 | TRT: 113 mins
Critical Praise
"Less is often more in screenwriting and this very natural, believable screenplay was written in a way that you feel these people are your friends."

Valletta Film Festival 2018 award for Best Screenplay
"The film eschews clichés for natural, lived in characters who are as long on charm as they are on flaws."

Indiewire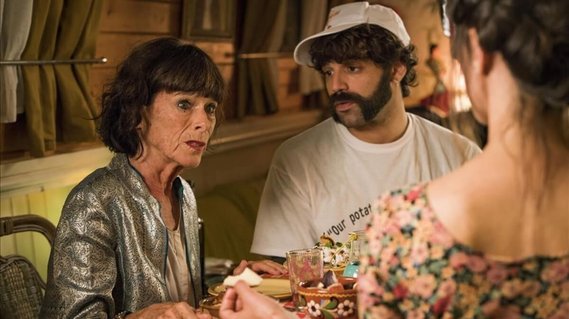 "It is a beautiful meditation on the gut punch we call love, in all its heartbreak and revelry."
Glide Magazine
"Humour pervades this film, which steers clear of sickly-sweet romanticism as it raises the question not only of what form the families of today can take, but also of how complicated it is to make decisions when there are two – or more – people involved."
Cineuropa
Distribution
Anchor and Hope is available to stream on Netflix, Amazon and Hulu and is distributed by Wolfe in the U.S. The film had a theatrical release in the U.S, Spain and UK in 2018.
Awards

Gaudí Awards 2018: Best Non-Catalan Language Film (winner) / Best Screenplay (nominee)
Seville European Film Festival 2017: Best Film (winner)
Valletta Film Festival 2018: Best Screenplay (winner) / Best Feature Film (winner)
Guadalajara International Film Festival 2018: Best Feature Film (nominee)
Official Selection
BFI London Film Festival 2017 (world premiere)
South by Southwest 2018 (US premiere)
Seattle International Film Festival 2018
Guadalajara International Film Festival 2018 (opening night)
Sydney Film Festival 2018

Frameline Film Festival 2018
International Film Festival Rotterdam 2018
Seville European Film Festival 2017 (opening night)
Palm Springs International Film Festival 2019